Blessing, Forgiving, Preaching: Australian Anglicans Celebrate Thirty Years of Women Priests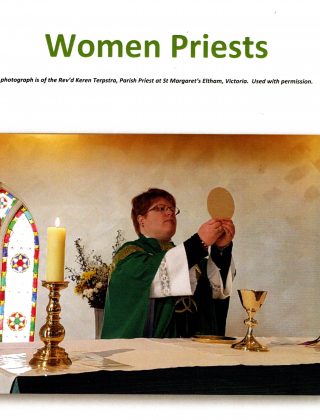 All over Australia dioceses, parishes, small groups and individual men and women are remembering the tumultuous event of 1992.
Celebrations are being organised, photo albums and newspaper articles are being searched for, and memories recorded.
So what changed?
Because women ordained into the priesthood is not simply a matter of gender equality or individual justice by overcoming barriers in the hierarchy.
While these are important, they are essentially secular priorities. Women need to be wary about entering a male-dominated domain purely on these grounds.
Is hierarchy itself anti-feminist, even anti-human? Is authority the main game of ordained ministry?
THE most important change was women's entry into the Holy of Holies. A woman blessed by a bishop to give blessings herself: a woman set apart to pray, to read, to come to know the holy in order to 'watch over and care for the people in her charge'.
She is a churchy Florence Nightingale, holding the Light of Christ high so to illuminate the Path to Righteousness.
WHAT ISN'T THERE TO CELEBRATE IN THAT?
Throughout 2022 this website and Facebook page will present
A Calendar of Events     Please send in yours.
A Calendar of Women Saints You may know some we don't
A History of the legal battles, and the ordinations held all over Australia in 1992
Profiles of the Pioneers Please send in your suggestions/photos
Profiles of Women Ordained Please send in your suggestions/photo
CONTACT US BY EMAIL OR FACEBOOK
Lesley McLean President