CAROLINE PEARCE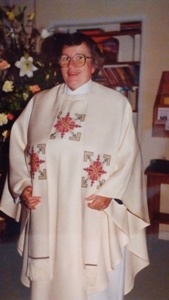 The Reverend Caroline Heath Pearce
Born October 17, 1944 Millicent
Died 15th September, 2020 Wayville
(An update: Caroline left many records of her quest for ordination and about the controversy over women's ordination. She wanted them preserved, and they are now [2021] in the State Library of South Australia, PRG 1772, freely accessible. JS)
Caroline Heath Pearce was the first woman to have left Australia to test her vocation to the priesthood in the Anglican Church.  She left for New York in 1986 where she studied at General Theol0gical Seminary and began her time of discernment with the Bishop of Newark, the Right Reverend John Spong.  She was to be ordained deacon by him in mid-1989 and 6 months later as priest.
On Thursday, 1st October, 2020 a Thanksgiving Eucharist in remembrance of Caroline's life and priestly ministry was held in St John's Anglican Church, Halifax Street, Adelaide. The celebrant and preacher at Caroline's funeral was the Reverend Sonia Patterson who was joined by the Reverends Dianne Schaeffer and Tracey Gracey in celebrating Holy Communion.  This was a wonderful tribute in itself to Caroline who having pioneered the path to priesthood was to mentor and minister to these women and many others in their own journey to priesthood.  It was a moment to honour and to celebrate the way in which Caroline responded to God's call to live her life as a priest within the Anglican Communion. Archbishop Geoffrey Smith led the prayers.
Caroline's husband Bill and daughters Alison, Kazzia and Joanna attended her funeral.  Rachel who continues to live in London was unable to attend because of Covid 19.  She, her husband and son Theo gathered there to watch via the internet. Theo (one of four grandsons) sang.  So we many – those attending in person and the many on-line, farewelled Caroline in a fitting service of beautiful liturgy, loving kindness, and appreciation for having had her live among us.
Early in the 1980s I met Caroline at St Oswald's Church.  Shortly after, at her invitation I joined her in becoming active in the establishment of the Movement for the Ordination of Women in SA.  We, together with Elizabeth Cheetham from the Parish of Broadview, were to become its first Co-convenors.  Working so closely in this movement meant that we got to know one another very well and became friends.
Caroline brought energy, passion, persistence and determined know how to the Movement.  At that time, to admit publicly to a calling to priesthood, which Caroline did, met with gratitude from many women and men, respect from a good many though they opposed the ordination of women, but, overwhelmingly it seemed, it drew to say the least an unkind response from some within the church.  Many felt free to vent their anger and disrespect for women.  Unfortunately, misogyny found expression in our synods and press.  It was a turbulent and painful time for many women, particularly so for women who did indeed wish to test their belief that God was calling them to priesthood.  Nevertheless, it was a time too in which many deep and lasting friendships were formed.
Caroline, with Bill's support made the costly decision to leave Australia and travel to New York where Caroline had been accepted into a Masters of Divinity program at General Theological Seminary.  In 1986, having packed up home in Adelaide and having just finished her Social Work degree,  Caroline, with Bill and three of their four daughters, Alison, Kazzia and Joanna flew out of Sydney, farewelled by those gathered for the inaugural MOW National Conference.  Their eldest daughter Rachel was leave for a life in London.  Amongst those farewelling Caroline was the Reverend Alison Cheek, another Adelaide woman who found her calling in the Episcopal Church of USA where she had become resident and was to be amongst the eleven irregularly ordained by retired bishops in New York in 1974. Alison was a staunch supporter of the movement in Australia, visiting Adelaide often, and a mentor to many women and in particular to Caroline.  They remained friends till her death at 91 in April 2019.
So began three and a half years in New York.  Caroline's correspondence home conveyed that beneath the excitement and stimulation of many new friends and experiences, life was a struggle for herself and the family.  Again her courage and persistence meant that Caroline completed her Masters in Divinity as well as qualifications in Clinical Pastoral Education, Spiritual Direction and Supervised Field Education.  And so followed her ordination to deacon and priest in the Diocese of Newark, licensed to Bishop Spong.  I believe, Caroline continued to hold this licence to her death.
When Caroline and Bill, with two of their daughters, returned to Australia it was late 1989 and not to Adelaide but to Melbourne.  Here at Archbishop David Penman's invitation extended just before his untimely death, Caroline took up the position of Chaplain to Mount Royal Hospital.  However, though ordained priest, Caroline was permitted officially only to function as a deacon.  Once again she experienced much frustration and disappointment that her calling and identity were not recognised in the Australian Church.
[On a personal note, during her time as chaplain, Caroline hosted a visit to Australia by Bishop John Spong.  Typical of Caroline's thoughtfulness, Caroline invited me over to Melbourne to meet Bishop Spong and gave me the opportunity to spend a day sightseeing along the Great Ocean Road with him, his wife, Caroline and Bill.  One of my most treasured memories is to have walked the beach oblivious to the rain, in passionate conversation with Bishop Spong unpacking Scripture.  We all only became aware of being wet and windswept once back in the car.  We travelled home minus some of the top layers of wet clothing and sharing rugs to keep warm.]
When General Synod in 1992 made it legally possible for women to be ordained as priests, Caroline's Orders were recognised at last and in 1993 she was appointed as Priest in Charge in the Parish of Flemington where she stayed till returning to Adelaide in 1997.
Caroline took up the position of Associate Priest to John Henry Stephenson in the Stirling Parish at his invitation.  Here Caroline had a rich and diverse ministry living in Aldgate.  Here she began in earnest her work in Education for Ministry and led a number of groups.  I remember her speaking with warmth and enthusiasm about the Confirmation classes there.
In 2002 Caroline moved to the Parish of Broadview as Parish Priest later in 2005 she became Priest in Charge of the Parish of Enfield too.  On the occasion of her retirement from full time ministry as a Parish Priest on 6thNovember 2011, I spoke of how Caroline had exercised her role as Parish Priest with competence, creative flair and pastoral compassion and empathy.  From General Theological Seminary New York to Broadview Parish, she found ways to reach out to the homeless and to refugees, to visit the sick, to encourage lay ministries through EFM and to deepen the spiritual life of individuals through her ministry in Spiritual Direction.
In her 'retirement' Caroline continued to minister as a priest wherever she found herself living and worshipping.  She was able to give more time to her ministry of spiritual direction, joining the leadership of the St Oswald Centre for Spirituality, retreat giving, continuing as a member of the Ecumenical Spiritual Directors' Association of South Australia' serving on national ecumenical executive committees such as the Australian Network for Spiritual Direction and that of the Centering Prayer movement whilst teaching locally and continuing to mentor those in the process of ordination.  She was to act as locum priest in a number of parishes, the last being a lengthy one at her once home of St Oswald's Parkside.  She served on Diocesan Council, a number of its committees including that of Professional Standards.
Caroline and Bill were to make their parish home at St John's Halifax St in the past few years.  Caroline was a loyal and loving friend to many, both in the Church and outside.  I know of her long standing Nursing Mother friends and of those from her days in the Girl Guide movement, and in later years those in the Soroptimist Club, all of whom could tell many other stories.
Vale Caroline Pearce, strong pioneering woman, priest and friend to many.                                                                                     Dianne Bradley, October 2020
Caroline's  funeral was held at St John's, Halifax Street on 1st October 2020.
Gathered outside St Oswald's, Parkside is the then parish priest, the Rev'd David Thorton-Wakeford leading the then Archbishop of Adelaide, the Rt Rev'd Jeffrey Driver. Caroline stands next to him and Dianne Bradley next to Caroline. Date and photographer unknown.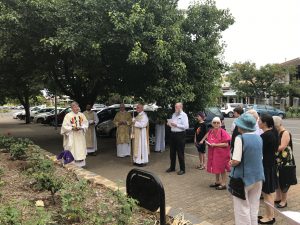 Her ashes were interred at St John's Halifax Street. Photograph David Hilliard