Church of England appoints its first black female bishop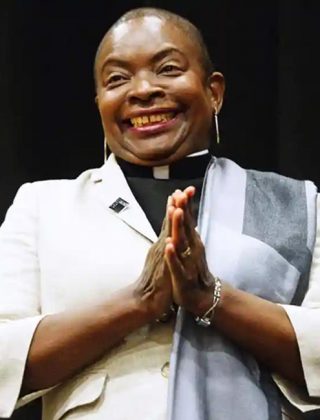 The Church of England's first black female bishop has been appointed by Downing Street.
Rose Hudson-Wilkin, the chaplain to the Speaker of the House of Commons, was announced as the new bishop of Dover.
Hudson-Wilkin, who was born in Jamaica, was introduced by Justin Welby, the archbishop of Canterbury, at St George's C of E school in Broadstairs, Kent. He described her appointment as "groundbreaking and historic" and said it was one of the most exciting appointments the church had made for a long time.
The new bishop and Welby spent 40 minutes answering questions from pupils. Hudson-Wilkin said she saw herself as "pretty ordinary – not necessarily 'the black priest' – but a priest with the good fortune to be black".
Advertisement
Her appointment as bishop felt like a miracle, she said. Since the age of 14 she had an "overwhelming sense of being called to ministry", at a time when women were barred from the priesthood.
Asked what her favourite song was, she launched into an impressive rendition of Labi Siffre's (Something Inside) So Strong.
Hudson-Wilkin was raised in Montego Bay by her father and aunt after her mother left to work in the UK. In 1982, Hudson-Wilkin left Jamaica to train at the Church Army college in the West Midlands. She was ordained as a priest in 1994, the first year the C of E allowed female clergy.
She later became chaplain to the Commons speaker and a chaplain to the Queen.
Guardian Today: the headlines, the analysis, the debate – sent direct to you
Read more
Hudson-Wilkin has urged the C of E to appoint more black and minority ethnic clergy and officials. In 2015 she said: "The church has to wake up. In the same way it has agonised over women, and has eventually seen that it's right for women to be in leadership within the church, it needs to put the same amount of work when it comes to minority ethnic people … It has got to right this wrong."
Earlier this year, she told a C of E conference she had been racially abused on the street since the Brexit referendum. "Over 30 years I have lived in this country. For the first time, last year, I was shouted at in the street and told to go back to Africa … There's been an underbelly that has suddenly thought this is our time, we can do this and behave in this manner."
She told pupils at St George's school she was "worried about the impact Brexit will have on our community if we have no deal going out of Europe … I would like to encourage parliamentarians to constantly say the decisions [need to be] good decisions for the wider country."
She said Britain was at a political impasse, but "as a Christian, I believe in hope". She urged the pupils to find out who their MPs were, saying: "As young as you are, you need to bang on their doors."
In response to a pupil's question about the church's attitude to LGBT people, she said: "I believe God created everyone and that people who are gay were also created by God. I have a responsibility to love them – they are part of God's creation." People should receive each other "for who they are without putting them in a box".
In a statement, Welby described Hudson-Wilkin as one of the most influential and effective ministers in the public square and a prophet, pastor and evangelist who had challenged the C of E over its engagement with UK minority ethnic groups.
John Bercow, the Commons Speaker, said: "Rose is one of the warmest, kindest and most loving people I have ever met, so she will be sorely missed by members across the house, the staff and, especially, by me.
"She has an unfailing sense of duty and an ability – more than she would herself ever know – to bring comfort in times of tragedy. Furthermore, her steely resolve when confronted with loss and evil, following the death of our dear colleague Jo Cox, and in the wake of the Westminster Bridge attack, was plain for all to see. Both in the celebration of happiness and in condolence and prayer, she has the most reassuring, fortifying presence anyone could want."
Hudson-Wilkin will succeed the Rt Rev Trevor Willmott, who retired from the role in May. She will be consecrated in November.
The Guardian, Article published June 28 2019
Author: Harriet Sherwood