Clergy Women Praying
Companioning God,
We pray for our sisters in ministry, giving thanks for the friendship and support that we offer each other in prayer and when we gather in person.
We thank you for the unique gifts that each one of us brings to our ministry positions and we continue to pray that you will bless our Diocese as we seek to grow your church in difficult times.
We pray for our parishes, especially those who are struggling financially. We pray that their focus will be on growth, vision and having a sense of gratitude, rather than being concerned about monetary problems.
We pray for clergy who are tired from the effects of COVID-19. Empower and inspire them and create in them a renewed sense of energy and hope. May we be conscious of Jesus' relationship with you and find time to rest in your presence and care for our wellbeing.
We pray for our Anglican schools and clergywomen who are in chaplaincy positions.
May your spirit guide them as they seek to spiritually connect with their community, especially those who are struggling with isolation, family difficulties and self-harming.
We thank you for the diverse and rich ways in which our parishes and schools continued to reach out to our wider communities through online services and personal contact. May your discerning spirit guide us as we seek ways to continue to use our innovative and traditional practices for those who have connected with us during COVID-19.
We also pray for our sisters who are ministering to those in need at Anglicare giving thanks for their loving presence and willingness to serve during this time of crisis.
Loving God, continue to bless and uphold each one of us so that we can be ongoing expressions of your love and peace.
Amen
The Rev'd Tracey Gracey put together these prayers at a gathering of Adelaide (South Australia) clergy women at All Soul's, St Peters in July 2020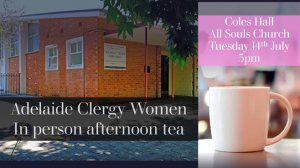 Adelaide Clergy Women Collective
Author: the Rev'd Tracey Gracey