Muriel Gorrie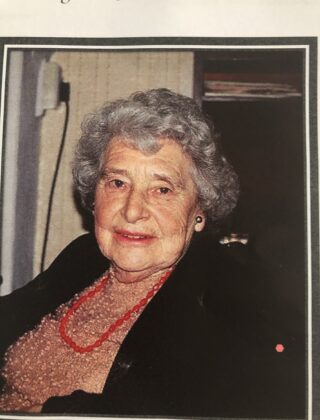 Muriel Gorrie was the third person to join the newly formed National Movement for the Ordination of Women in Adelaide in 1985. She remained a paid up member until her death.
As President of the Movement for the Ordination of Women and as a friend, I attended her funeral at St Chad's, Fullarton on Tuesday 30 March. The church was packed and I could see several previous members (movers and shakers) of MOW. Sue Henry-Edwards had alerted me to Muriel's death and funeral. She was there with her husband, Fr Gwylim. They were prominent members of Sydney MOW when Gwylim was the incumbent at Enmore and have since returned to Adelaide.
Sue wrote that "Muriel Gorrie who was a stanch supporter of MOW in Adelaide. The last time I saw her she reminisced about how important her involvement with MOW was to her and how much she had been influenced in her faith by the struggle  for women's ordination and the wonderful women she encountered . With a twinkle in her eye she also spoke about what fun we had. She also was an inspiring and influential woman who quietly and persistently worked for what she believed in."
Sue was present at the first priesting of women at Adelaide's St Peter's Cathedral on 5 December 1992. She and others 'released the gold, violet and green streamers from the balcony which felled down to the aisle and the newly ordained women processed out. She was a active member of MOWSA and was present with other MOW members at the consecration of Kay Goldsworthy in Perth on 2008.
Members of the Adelaide group, WHO? Women in Holy Orders?, were also present.
Fr Donald Grey-Smith, with his late wife Elsie, hosted the group in St Phillip's Broadview rectory.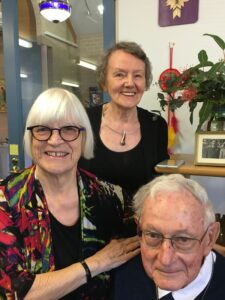 He is seen here with Lesley McLean and Lynne Rokkas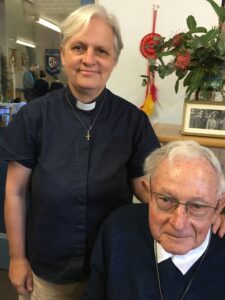 His daughter, now the Ven Dr Ruth Mathieson was a member of MOW and attended the Adelaide conference in 2000
Lynne Rokkas was an active member of both WHO? and MOW. Her son designed a logo displayed in the photograph below.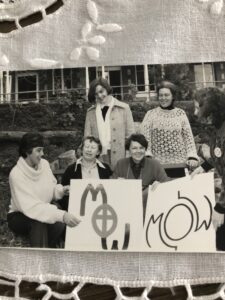 Front from L: Dianne Bradley, Alder Hall, Lynne Rokkas
Back from L: Lucy (Elizabeth) Cheetham, Janet Gaden, Sue Henry-Edwards
at the 2nd MOW Conference, Adelaide, Nunyarra Centre, 1986.
Author: Lesley McLean