Society of the Sacred Advent – History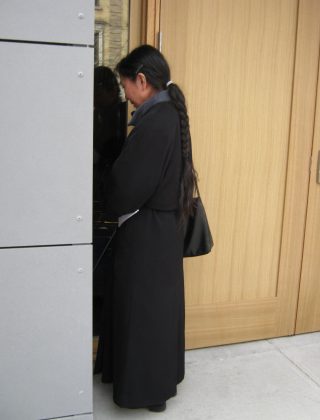 Known as Sister Caroline Amy and, later, Mother Caroline, Caroline Amy Balguy started her religious life at the Community of St John Baptist in Clewer, England. She came to Australia on 9 December 1892 at the request of the Reverend Montagu John Stone-Wigg, Vicar and Canon Residentiary of St John's Pro-Cathedral, who saw the need for an Anglican religious order for women in Brisbane.[1]
In its early days the Society of the Sacred Advent focused on ministering to the needs of women and children, establishing several schools and children's homes throughout Queensland. In 1895 the Sisters opened a boarding school for girls in Nundah, at the site of a former boys' school, known as Eton High School.[2] On the 8th of July, 1910, under the guidance of Mother Emma, the Sisters moved into their current residence at Community House in Albion.
As expressed on the Anglican Religious Communities website, The Society of the Sacred Advent exists "for the glory of God and for the service of His Church in preparation for the Second Coming of our Lord and Saviour Jesus Christ".[3] To this end, the Sisters devote themselves to God in community under vows of poverty, chastity and obedience, leading a life of prayer, silence and work. The Sisters' aim is "to point the way to Jesus in our own time, to a world which has largely lost touch with spiritual realities and is caught up in despair, loneliness and fear".[3] The patron saint of the order is St John the Baptist.
Current life and work
The Society has two schools located in Brisbane, Australia – St Margaret's and St Aidan's; both are for girls only. Although the Sisters are no longer involved in the day-to-day running of the schools, two Sisters remain active on each of the School Councils. The Sisters also conduct regular quiet days and retreats which are open to members of the public. Attendees can enjoy a day of quiet prayer in the Sister's Chapel and the beautiful gardens surrounding Community House. A traditional labyrinth is also available for use. Details for quiet days and retreats may be found in 'Focus', the newspaper of the Anglican Diocese of Brisbane.
In recent years, the Society has received two new vocations; Sister Rosalind Miriam was admitted as a novice in 2007, and Sister Moira Grace in 2006.[4] Sister Moira has since taken full vows at a ceremony held in the Sister's Chapel on 26 February 2008; and Sister Rosalind Miriam most recently on 2 February 2010. On 11 July 2010, the Sisters also celebrated 100 years in their current residence, Community House.
Crawford, Emma (1864–1939)
This article was published in Australian Dictionary of Biography, Volume 8, (MUP), 1981
Emma Crawford (1864?-1939), teacher and mother superior, was born probably at Woolwich, Kent, England, daughter of Lieutenant William Crawford, adjutant of the coastal brigade of artillery, and his wife Sarah, née Gregg. Well-educated and probably with some teaching experience, she came to Queensland shortly before her admission to the Anglican Society of the Sacred Advent in September 1896. Its founder, Sister Caroline, worked among the poor and neglected in Brisbane as she had in England; at the time of Emma Crawford's profession on 28 December 1897 the society had accepted Bishop Webber's invitation to manage an orphanage and a 'rescue' home for women and babies.
Under the provisions of the State Education Act of 1875, religious instruction was banned in Queensland state schools. To satisfy demands for Anglican teaching, Webber asked the society both to open a primary day school and to manage the Eton High School for girls. In becoming sister-in-charge of the latter (later St Margaret's) Emma Crawford made Anglican girls' schools in Queensland viable. Though she did not become superior until 1905, she was influential from the late 1890s when Mother Caroline sought money and helpers in England. After developing an industrial school for wayward girls in Brisbane, the community took charge of a school in Stanthorpe in 1909 which was later moved to Warwick and named St Catharine's.
During World War I Mother Emma accepted the invitation of Bishop Feetham to establish boarding schools for country girls in his diocese. St Anne's, Townsville, was opened in July 1917; St Mary's Herberton, in 1918 and St Gabriel's, Charters Towers, in 1921. After the war she acquired All Saints Hostel, Charleville, for far-west children attending the local state school, and in 1922 she accepted responsibility for St Martin's War Memorial Hospital in Brisbane. Her last major Brisbane venture was the foundation of St Aidan's School at Corinda in February 1929. She took the society to the diocese of Rockhampton in 1932 by accepting an invitation to manage St Faith's School at Yeppoon.
When Mother Emma died of cancer on 9 March 1939, the society was working in three of five Queensland dioceses. Its schools, based on English models, formed a definite system with similar uniforms and badges, high academic standards and an insistence on trained staff. The society never had more than thirty professed sisters. Mother Emma commented ruefully in 1906 that 'responses to the call to the life of a sister are still very rare in Australia'. On her death, Bishop Feetham described her as 'the principal benefactress of this diocese'. Her most significant contribution was in moderating materialism and secularism in many aspects of Queensland life. A contemporary in the society described her as every inch a lady who could be icy if displeased, but always remained calm, even under great stress. Once, she managed to persuade Archbishop Donaldson to her point of view on issues on which his opinions had been equally firm.
Select Bibliography
A Short History of the Society of the Sacred Advent 1892-1954 (Brisb, nd)
E. C. Rowland, The Tropics for Christ (Syd, 1960)
Courier Mail (Brisbane), 10 Mar 1939
K. Rayner, The History of the Church of England in Queensland (Ph.D. thesis, University of Queensland, 1962)
H. Amies, The Society of the Sacred Advent in Queensland 1892-1968, and A. Hayhoe, John Oliver Feetham … (B.A. Hons thesis, University of Queensland, 1968).
Citation details
Helen Gregory, 'Crawford, Emma (1864–1939)', Australian Dictionary of Biography, National Centre of Biography, Australian National University, http://adb.anu.edu.au/biography/crawford-emma-5811/text9863, published first in hardcopy 1981, accessed online 8 March 2017.