Theological School student reflection
Kirsty Beilharz reflects on her year of remote learning through Trinity's Theological School.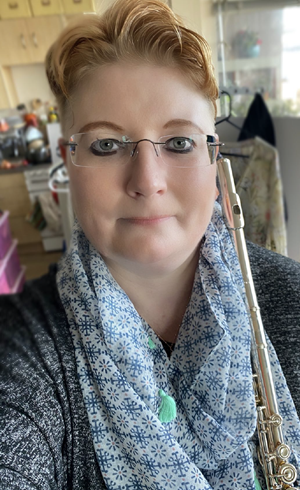 My experience in 2020 was in some ways different to many students. For a start, I commenced studying a Master of Theological Studies at Trinity College Theological School due to the excellent reputation of the academic lecturers and because online flexibility was available, given I live in Sydney. Therefore, the adeptly handled transition to online learning for all students early in first semester was not formidable for me.
At the same time, I felt a tremendous solidarity and empathy for our Victorian peers by the time second semester and the prolonged lockdowns set in. I particularly appreciated the online video conversations we had in our tutorial group because we shared frank conversations about the literature and theological application, and bounced questions off each other, as well as the lecturer.
I hope that in some small way the Melburnians enjoyed the connection through these class dialogues whilst they were otherwise so restricted. These peers were embraced in my personal prayer. Our class included people of all ages and experiences, from a range of geographical locations, and studying towards different vocations or aspirations, yet we shared a sense of camaraderie and joy in learning together.
In the first semester, I studied Women and the Bible with the Revd Canon Professor Dorothy Lee and Dr Rachelle Gilmour, both incredibly inspiring and enthusiastic. This 'duo' danced between Old and New Testament scholarship, critical analysis, and gaining insights into the ancient Roman-Hellenistic context, the honour-shame culture of the Eastern Mediterranean in pre-Christian and New Testament times, underpinning the narrative threads that connect both, and demonstrating the overarching structure and fulfilment of God's Kingdom.
That may seem obvious enough, but little discoveries such as the unlikely and unworthy women in Matthew's genealogy of Jesus, or connections between clustered parables that appear in distinctive sequence in the different Gospel accounts, revealed insights that are seldom unearthed in sermons or isolated reading. This unit ventured into challenging areas such as body politics, marginalisation and outsider perspectives, women leadership roles, power relationships, and even questions on the gender of God.
In Christian Ethics and Contemporary Issues with Dr Scott Kirkland, we were challenged to think through controversial and uneasy ethical dilemmas in an upbeat 'romp' through Virtue Ethics and Natural Law, theological-political problems such as enemies, authorities, sovereignty, material affluence, biopolitics, animal welfare, 'walls' (literal and metaphoric), and the perilous path of ethics in our pluralistic world.
Scott could not have anticipated just how relevant some of these issues would be to real life in 2020: the US election, threats of erecting new walls, abuse of sovereignty (my description of Donald Trump), and authority in times of exception (such as a global pandemic), existential threat to all humanity, of rocky civil liberties in free market economies and global trade agreements, not to mention the perennial sacred and secular divide that Christian ethics faces to an ever-increasing degree. This unit was vitalising, challenging and introduced a wealth of literature that felt like the tip of an exciting iceberg to be revisited when time permits.
In the Revd Canon Professor Dorothy Lee's course Introduction to the Bible in second semester, I felt truly blessed to deepen my appreciation and understanding of exegetical techniques and Greco-Roman cultural life in ways I had not before encountered. It struck me deeply that contemporary hermeneutics and the Bible study we undertake in church often fails to sink its teeth into a genuine understanding of ancient culture in biblical times – the hierarchy, patriarchy, cultic and religious plurality, the different approach to Christianity for Jews expecting a Messiah and Gentile converts from polytheism, the persecution and theological challenges of the early church, etc. when we instead hasten to contemporary application.
Dorothy included an insightful lecture by the author of our textbook, Prof Revd Dr David deSilva, and poignant interviews with expert specialists from Trinity College Theological School staff — Dr Rachelle Gilmour, the Revd Canon Dr Robert Derrenbacker on Q and the synoptic gospels, the Revd Dr Chris Porter, and the Revd Dr Fergus King. I found the readings for this unit vibrant and thought-provoking. This kind of learning kindles the excitement and spiritual stirrings of God's word afresh.
By Kirsty Beilharz