Vale – Patricia Hayward (1953-2020)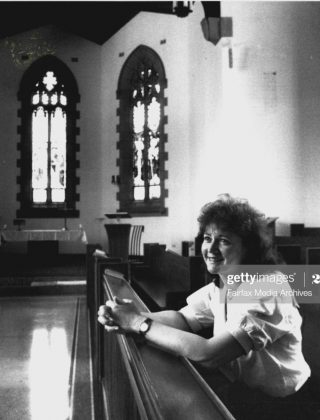 MOW was saddened to learn of the passing of Patricia Hayward on 1 January 2020.
Patricia was a committed supporter of MOW, as a member of MOW Sydney from 1984 until the present, convenor of MOW Sydney from 1992 to 1995, and then National President from 1995 to 1997.
Patricia spent her early years in the bush, some 43 km outside Moree. She was School Captain in her final year at Moree High School and an exchange student in Denison, Iowa (1971-72).
Patricia completed a BA in History, English and Politics and a Dip. Ed. at UNE. Subsequently, she was awarded an MA in Theology at Fuller Theological Seminary (1982). From 1981-1987 she was employed as a schools' co-ordinator by the Scripture Union NSW. After moving from Newcastle to Sydney, she taught at St Scholastica's College (1988-1990) and The MLC School Burwood (1991-2012).
Patricia was the author of four textbooks (including The Nature and Origins of Religion and Christianity in Australia), a syllabus writer, HSC marker, and State President of the NSW Association for Studies of Religion (1999-2003). She was also a passionate advocate on social justice issues, including the treatment of asylum seekers.
Patricia's leadership of MOW coincided with the first half of Harry Goodhew's episcopate. As Stuart Piggin noted, in his chapter in Preachers, Prophets and Heretics (ed. Elaine Lindsay & Janet Scarfe), Patricia "had a good deal of credibility with evangelicals". She had been raised a Baptist by parents who were always supportive of women. At UNE, the Anglican Chaplain, Kevin Giles, confirmed her belief in female leadership, and this was further reinforced by study at the evangelical Fuller Seminary in Los Angeles. As Piggin writes, Patricia "knew her audience and tried to keep MOW Sydney's pronouncements within biblical norms". Her time as NSW convenor coincided with Sydney Synod's 1993-1995 moratorium on discussion of women's ordination, a moratorium which was supported by Sydney's women deacons who thought it would take the heat out of the issue and allow them to prove their competence in ministry. It should be noted, for the record, that the motion for the moratorium was not supported by MOW or by Patricia herself.
Patricia, as well as being a fervent advocate for women's ordination, was also a keen photographer and avid documenter of MOW events. Her photos remind those of us who knew Patricia of her kindness, her hospitality, her generosity, and her boundless energy, even despite long periods of illness. In this she was always supported by her loving husband, Roger Paton, and her two sons, Marcus and Chris, of whom she was inordinately proud.
Patricia will be much missed.
Elaine Lindsay