Alison Taylor
The Venerable Alison Taylor, Melbourne's Archdeacon for International Partnerships and Vicar of St John's Anglican Church Camberwell, has been appointed to lead the Southern Region of the Diocese of Brisbane as Queensland's first woman bishop. The news was announced on 2 December 2012. She will fill the role when current Bishop, the Right Reverend Geoff Smith, takes on the role of General Manager of the Brisbane Diocese early next year.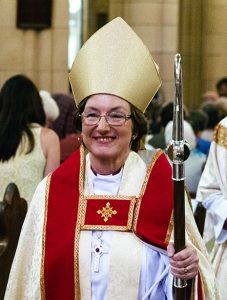 Click here to read the media release from the Anglican Diocese of Melbourne
Alison was consecrated on 6 April 2013 and served as an assistant bishop of the Diocese of Brisbane (Southern Region) until she retired in December 2017. As part of her ministry, she looked after 47 parishes stretching from the south of the Brisbane River to Coolangatta, and she looked after 14 schools run by the diocese.