The Reverend Canon Mara Di Francesco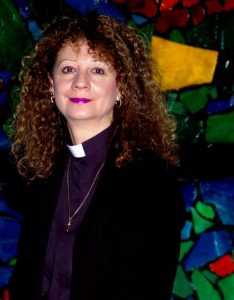 The Rev'd Canon Mara Di Francesco – Her Path to Ordination.
Mara Di Francesco was called to ordained ministry as a child of six during a school Eucharist at St Patrick's church Grote St, Adelaide. At the time, she was a student at St Mary's Dominican Convent for Girls in Franklin St, Adelaide.
Mara was born in Adelaide to Guiliano and Edda Di Francesco who migrated to Australia from Italy in the 1950s. She has three sisters. She is married to Ian Munro who is a chef. Mara speaks Italian but not as fluently as she would like to.
Mara worked as a chef for many years prior to training as a Parish Pastoral Associate with the Roman Catholic Church in the Diocese of Adelaide.
In 1988 Mara became an Anglican and in 1992 she began her theological study with the General Board of Religious Education by correspondence. In 1993 she moved to the Diocese of Canberra and Goulburn and began studying at St. Mark's National Theological Centre where she graduated with a Bachelor of Theology and a Certificate of Ministry. Mara has completed both basic and advanced Clinical Pastoral Education certificates.
Mara was ordained a deacon in 1995 and appointed curate, then priest in charge, in the parish of Batemans Bay until the end of 1996. In 1997 she became an assistant priest at St. John's Reid and in 1998 accepted the position of the senior priest, Chaplain to the Bega, Allawah, and Currong Flats in Braddon (a ministry she established), to the marginalised in the CBD and as Rural Dean of North Canberra and Yass. In December 1999 she became the Rector of Christ Church in Hawker, Canberra and Chaplain to Ginninderra Retirement Village where she gained extensive experience with ministry to the elderly. Mara's duties within and outside of the parish included the supervision of theological students and clergy in training, and membership of the panel that selects ordination candidates for the diocese. She was also a member of the council at Ginninderra Gardens.
In late October 2000, Mara became the Rector of St Martin's Campbelltown where she is still serving. The advantage of being the priest in Campbelltown is that she can minister to the Italian community as the suburb and neighbouring ones are predominantly made up of Italian migrants, their offspring and their offsprings' offspring. St Martin's has a cemetery in two parts. One is the garden for earth burials and cremation plots, part of which has long been popular with the Italian community. The other, newer part is the mausoleum, vault and crypt area that is proving to be very popular with the Italian community. This second part of the cemetery is a project the parish embarked on when they decided to demolish the rectory and use the land to further minister to the Italian community. Mara's cultural and social background has enhanced her ministry in the parish and the wider community.
Mara's gift of hospitality has worked well at St Martin's as many others in the parish share this gift and together they have been able to develop diverse ministry opportunities which have been creative, unique and involved other parties such as Anglicare and the Campbelltown City Council.
Mara has a varied range of experiences and abilities. She has a lot of energy, is very open-minded and flexible, compassionate, and a hard worker. She has strong leadership skills, vision, and imagination which combine well with her cheeky sense of humour, warmth, efficiency, and practicality. Some of her friends and colleagues have labelled her an entrepreneur because Mara loves coming up with effective and creative ways to grow the church and her people on all fronts. Mara's deep intuition and vision combine to enhance these gifts and those she has in other areas but are too sensitive to share.
Mara is a Benedictine oblate and has a deep passion for and interest in spirituality, prayer, community and hospitality. She loves theology especially books on spirituality, prayer and the Benedictine rule of life. Mara loves her role as a Canon of the Cathedral and is happy to continue in this role until her retirement.