Preachers, Prophets & Heretics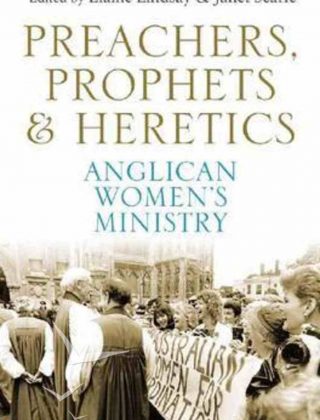 Preachers, Prophets & Heretics: Anglican Women's Ministry, edited by Elaine Lindsay and Janet Scarfe (UNSW Press, 2012), has been published to mark the 20th anniversary in 2012 of the ordination of women as priests in the Anglican Church in Australia. In it, key supporters of women's ordination and astute observers analyse and reflect on the controversy, its context and some of its consequences from their particular stand-points.
The eighteen contributors include lawyer Keith Mason, Bishops Keith Rayner and Peter Carnley, MOW president Janet Scarfe, campaigner Muriel Porter, priests Elizabeth Smith and Peta Sherlock, intercessor Janet Nelson, academic Heather Thomson, and historians Peter Sherlock, David Hilliard and Anne O'Brien.
The span is far wider than the dioceses where 'it' happened. Considerable attention is given to the Diocese of Sydney. It also reaches beyond Australian Anglicans: Jane Shaw provides the international context for the debate, Katharine Massam explores Catholic feminism, and Rachael Kohn Muslim women reformers.
This is the first time that this tumultuous period has been analysed in such a way. The contributors and their chapters are all fascinating and thought-provoking.
The book is dedicated to Patricia Brennan, foundation president of MOW.
Publication of Preachers Prophets & Heretics will be celebrated in Melbourne, Sydney and Adelaide.
In Melbourne, +Barbara Darling, Assistant Bishop of Melbourne, will launch Preachers Prophets & Heretics during an all day conference at Trinity College, University of Melbourne, on Saturday 22 September 2012. The conference is part of the celebrations of 20 years of women priests in the Diocese of Melbourne, and a number of the book's contributors will speak. For conference bookings, visit the online booking page, call 03 9348 7127 or email tcts@trinity.unimelb.edu.au
In Adelaide, Archbishop Jeffrey Driver will launch the book as a formal part of synod on Sunday 21 October. A celebratory dinner will be held that evening in a local restaurant. All welcome. For further information, contact Dianne Bradley diannebradley@bigpond.com
In Sydney, the Honorable Elizabeth Evatt AC will launch PPH at an event to be hosted by St James' Church, King St, Sydney, on Saurday 17 November. Several Sydney-based contributors will also speak. More details will be available as soon as the program is finalised.
Details about ordering the book via the web with 20% off the normal price are at NewSouthBooks or download the order form here [pdf]
Updated 15 July 2012
from the publisher
As the Anglican Church tied itself in legal and theological knots over the ordination of women in the 1980s and early 1990s, the Australian public watched in amazement. The spectacle spilled out of church synods into ecclesiastical tribunals and civil courts, and made media headlines. Twenty years have passed since women were first ordained as priests in 1992. Since then women have become much more visible in the church hierarchy except in the powerful Diocese of Sydney, the only metropolitan diocese that doesn't allow women priests. More than 500 women have been ordained as priests – and they haven't stopped there, some have also gone on to become bishops. This first book to document and analyse the debate includes chapters from key players and observers, including Peter Carnley, the Archbishop of Perth, who broke the impasse by ordaining women before national legislation was passed; religion producer and broadcaster Rachael Kohn, and the Very Reverend Dr Jane Shaw, an internationally recognised author and commentator.
Author: Edited by, Elaine Lindsay & Janet Scarfe